Meet the Teacher: Donna Osborne
Reading Time:
3
minutes
What is your name? Donna Osborne
What do you teach? Academic Kindergarten
How many years have you taught at Dayspring? I have been teaching at Dayspring for over 25 years.
What is your educational background? I went to Shippensburg State College and received a Bachelors of Education with a double major in Early Education. Then, I taught at Living Word Academy as a 2nd grade teacher for 2 years then came to Dayspring and taught the preschool for 2 years and have been teaching kindergarten ever since!
Why did you decide to become a teacher? I became a teacher because I love children and love to see the wonder in their eyes as they learn something new. I love to teach them about God and the Bible and help them to understand the relationship they can have with Jesus.
What do you appreciate the most about the Principle Approach? I appreciate the Principle Approach because I see how the Principles of God's Word bring TRUTH clearly. I love to bring these principles down to the level of the Kindergarten.
What do you see in your students that is most encouraging? I love the enthusiasm, excitement for learning, and love for Jesus that my students express. I see how they can take something I've explained to them and they process it and then walk it out. These little ones are open and receptive to learning about everything! They are at such a formative stage that it is an honor for me to be able to speak into their lives.
Why do you love teaching at Dayspring? I love teaching in a Christian environment, I love my co-workers, I love being able to share Biblical principles as I teach my subjects, I love everything about Dayspring's vision.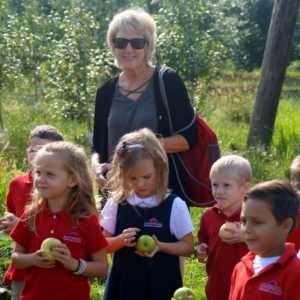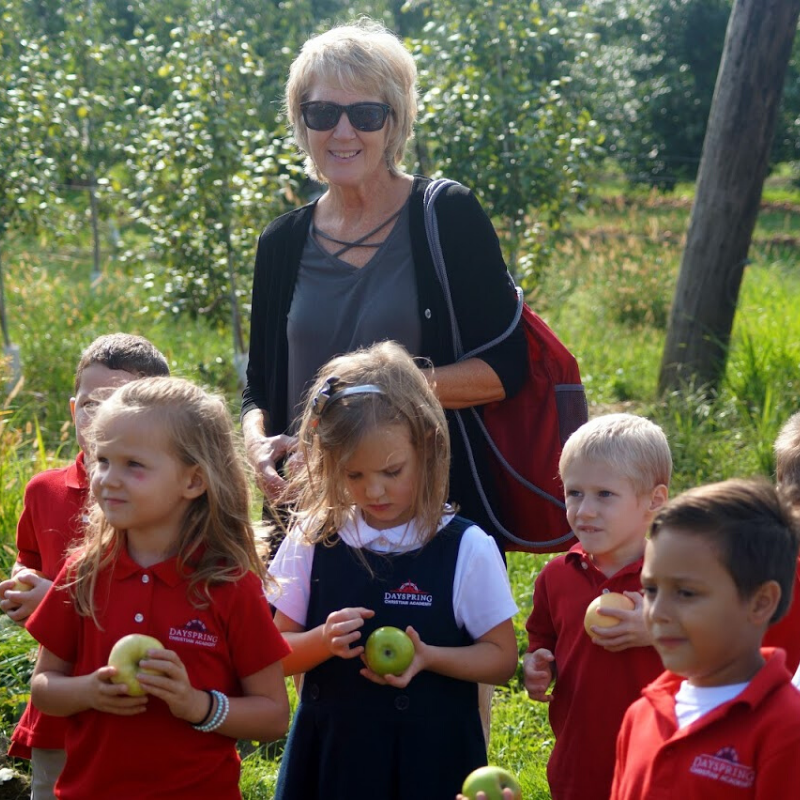 How do you teach a biblical worldview in your classroom? I share a lot of Bible verses and read about Bible characters and talk about how they relate to our every day life. We learn many character traits that relate to Jesus since we want to be more like HIM. I teach on a foundation level and try to line everything up with what Jesus says in the Bible.
What do you think most students appreciate about your class? We learn many things and cover a lot of material through the whole year. We have many fun things we do as we learn! I would hope they appreciate how much I love them and want to see the best of them. I encourage them to do their best as unto the Lord. Each student's "best" is individual. I like to have fun and like to see them all involved and connected with each other.
What is unique about you, your talents, or interests that you bring to the classroom? I love kids and enjoy helping them learn and grow. I have an organized classroom with a consistent schedule. I feel that children need structure and work well within it. I love reading and work with the students to learn letters, sounds and blending them into words. I am a pastor's wife and love to share things my husband shares in church. Children love to learn and listen to stories and are very open to talk about their thoughts.
What have you seen in your students over the years that has touched your heart the most? I have seen children grow in their understanding of Jesus and share their thoughts in a thoughtful way….I have seen some students ask Jesus to come into their hearts and be their savior… They are so open and honest. Many tell me about their family life or how someone has treated them and they trust me with what they say. I love that I can pray with them and encourage them. I also love that I can help parents in "parenting" through love and structure.
At Dayspring Christian Academy, we are committed to raising up the next generation of Christian leaders who acknowledge the Lordship of Jesus Christ in every area of life, demonstrate a biblical worldview, become citizens of excellence in Christian character and scholarship, and aid in the restoration of America's biblical foundation. If you would like to learn more about Dayspring Christian Academy, please contact Karol Hasting at 717-285-2000 or schedule a private tour using the button below.