Enroll in Preschool
Dayspring Christian Academy's Tuesday/Thursday morning preschool program in Lancaster, PA begins to lay the foundation to a Principle Approach® education.
Fast Facts About Preschool
✓ Who: Ages 3 & 4 (must be 3 by September 1st of the school year)
✓ When: Tuesday & Thursday mornings from 8:30-11:00 a.m (2-day, half-day preschool)
✓ Location: Conveniently located just 1 minute from the Mountville exit of Route 30 in Lancaster County, PA
Preschool helps children prepare for the academics of kindergarten at Dayspring.
Early Education at Dayspring Christian Academy
At Dayspring, we provide three levels of early childhood education:
Preschool: 2-Days/Week (mornings, for ages 3 & 4)
Pre-Kindergarten: 3 & 5-Day/Week Programs (full day, for ages 4 & 5)
Kindergarten: 3 & 5-Day/Week Programs (full day, for ages 5 & 6)
Preschool at Dayspring Christian Academy
Dayspring Christian Academy seeks to educate the whole child. At our preschool, we educate according to the Principle Approach methodology. The Principle Approach is America's historic method of education that was prevalent during the founding era of our nation. Our private preschool program offers:
Introduction to the alphabet. Students learn a Bible hero for each letter of the alphabet, culminating with Bible character day—complete with costume!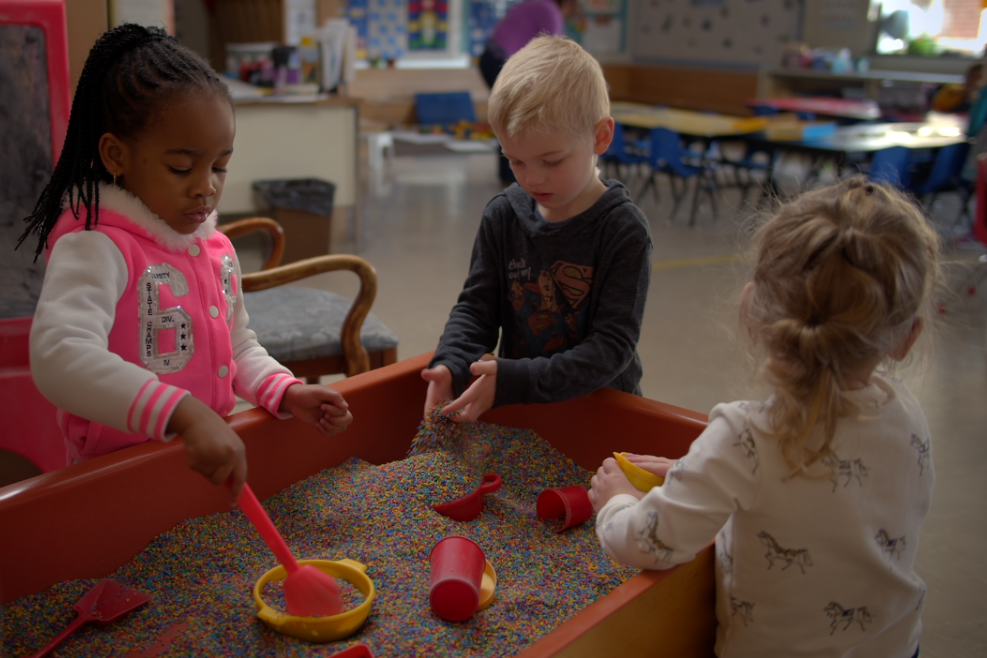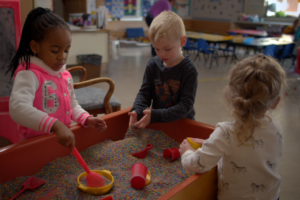 Age-appropriate academic lessons woven together and rooted in God's Word, including:
History
Science
Literature
Math
Guided free play, incorporating principles of self-government, order, and unity.
Circle time, which includes songs, calendar (to review date, patterns, and number order), weather, colors, and Bible stories.
Daily art and craft projects designed to reinforce the history, science, Bible, and literature focus.
In-depth field studies including:
Country Barn
Railroad Museum of Strasburg
Tiny Town
Sample Dayspring Preschool Schedule
Below is a general schedule outlining our Preschooler's busy morning. Our teacher may flex the schedule from time to time as suits a given class.
8:00 Arrival, Centers, Guided Free Play
8:25 Opening Circle: Greeting, Calendar, and Weather (show & tell – Thursdays Only)
8:35 Bible, Songs, Memory Verse
8:55 Bathroom Break
9:05 Playground (weather permitting) or Guided Free Play In Classroom
9:25 Snack
9:40 Literature/ History Timeline
9:55 Music & Movement
10:10 Math
10:25 Art Activity or Science & Exploration
10:45 Closing Circle: Review, Prayer, and Song
Pack up and Line up
11:00 Parent Pickup
Why Dayspring?
What sets Dayspring apart from other Lancaster County preschools? Those who have come through Dayspring Christian Academy acknowledge that it is different than other Christian schools. This difference can be clearly seen in the way we educate our students. Even in the early years, students are taught to view each subject through the lens of God's Word. This enables them to see, hear, and understand how God is present in every area of life. Emphasis is placed on character development, teaching children the concept of self-government (self-control) and the liberty that comes as a result of it.
The goal of a Dayspring education is to equip students as faith-filled, biblical thinkers who pursue Christian character, communicate confidently, innovate purposefully, and live courageously as tomorrow's leaders.
Dayspring's Preschool Teacher
Your child is loved by our preschool teacher, who has an advanced degree in early childhood education and is warm, friendly, and loves the Lord.
General Preschool Information:
Students must be 3 by September 1. All children must be potty-trained.
Preschool is offered based on space availability. Each class accommodates up to 12 students.
Parents must provide a copy of a recent physical examination and an immunization record or letter of objection.
A non-refundable registration fee of $50 is due with the registration form.
Class is held on Tuesdays and Thursdays from 8:30 –11 a.m.
Tuition for the program is $980, payable in one sum or monthly. Monthly fees are to be paid in full on the first day of each month and are non-refundable after the month has started.
Snacks will be provided by the school unless a student has dietary restrictions. In that case, parents are responsible to provide a snack for their child.
Students should wear comfortable, modest clothes that are appropriate for activity and arts and crafts.
Transportation is not provided.
Dayspring's preschool classroom is large, bright, welcoming, and friendly. Appropriate security measures are in place to ensure that our families feel confident that their precious children are safe, loved and well-cared for.
Preschool programs for gifted or special needs students may be available. Please contact Dayspring's Admissions Director, Karol Hasting, to inquire.
How to Apply for Preschool at Dayspring
Would you like to get to know us better? Here are two ways to learn more:
Schedule a private tour or attend an open house!
We are currently enrolling for the 2020-2021 school year: Plan ahead – we begin accepting applications for preschool in January for the upcoming school year!
How to Apply:

Step 1: Click on the registration link to download our registration form
Step 2: Fill out the form and email or mail it to our Admissions Director, Karol Hasting.
Step 3: Mail or drop off your $50 registration fee at Dayspring Christian Academy: 120 College Avenue Mountville, PA 17554. This fee is non-refundable.

Forms to Submit:

Parents must also provide a copy of a recent physical examination and an immunization record or letter of objection. You can find the immunization form in our Form Library.