Women's Giving Circle
"Women's Giving Circle enables us to give in a way that feels personal, gives us the ability to see the results immediately, as well as see the joy and gratitude firsthand…it feels like we are giving the dear teachers and students a special treat!"
~Anne Marie Teply, Member of the Women's Giving Circle
Do you want to give to Dayspring Christian Academy but feel like you cannot make a big impact? A giving circle is where donors pool their gifts to make a bigger impact than just one gift could have! Dayspring has developed a special program called the Women's Giving Circle which funds specific projects, typically unbudgeted, within the school.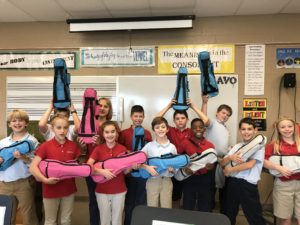 The Women's Giving Circle is an opportunity for women who wish to pool their support to fund projects within the school that support student activities. In the past the Women's Giving Circle members pooled their funds to support field studies, music equipment, Ipads, STEM products, books, a gaga pit and much more. Gifts from the Women's Giving Circle have impacted almost every area of the school and every student in some way.
The cost to join is $200 and must be paid by October 1st. Attend our Fall meeting to see what projects are available for funding. You can help to make a difference in each classroom and in each student's life! For more information or to register by phone contact Joanne Martin at 717-285-200 ext 211. Or, if you are ready to join for the 2022-2023 year now, click the button below!