Remember America Welcomes Kirk Cameron and Pete Hegseth
Dayspring Christian Academy presents the 13th Remember America Speaker Series featuring Kirk Cameron, who has led American Campfire Revival events throughout the nation and Pete Hegseth, co-host of Fox News Channel's Fox & Friends Weekends and author of "Battle for the American Mind: Uprooting a Century of Miseducation."
Each year, the Remember America Speaker Series' theme stands on a verse from God's Word and the evening brings to life this theme through choir, oration, media, and, of course, our keynote speakers. The theme for 2023 event is from Ecclesiastes 4.12 "the three-stranded cord is not quickly broken."
"At Dayspring, we believe that education is a partnership between the home, the church, and the school," said Dayspring Headmaster Dan Stone. "The '3-stranded cord' was not our idea. It comes from God's Word. In Ecclesiastes 4:12, we read '…a cord of three strands is not easily broken.' As we seek to remind America of her unique Christian heritage, we want to highlight this important underpinning of a child's education and worldview formation: that it is a partnership between the home, the church, and the school. This was the kind of education that was prevalent at our nation's founding, now known as the Principle Approach.
This three-stranded cord will be woven through the evening's events that will feature Pete Hegseth, Kirk Cameron, and a special appearance by Sean Feucht.
Kirk Cameron
Well-known for his role in the 1980s sitcom Growing Pains, Kirk Cameron has since invested his time and energy into faith and family-focused films, television shows, and live events. He has produced the documentaries, Monumental: In Search Of America's National Treasure, Connect, The Way Of The Master television series, and hundreds of live events focused on marriage, family, and parenting. Recently, he's been featured in the national media for his American Campfire Revival: 100 Day Plan, which urges the family of faith to return to the principles that will bring blessing and protection to America.
"Kirk Cameron has made his mark in recent years by devoting himself to promoting biblical family values," Stone noted. "When it comes to the 'home' portion of the three-stranded cord, Kirk Cameron and his wife have led a number of initiatives in recent years that have provided resources to parents who wish to make Christ and His Word the center of their home. Kirk is leading the way in helping to restore the cornerstone of a healthy society, the American Christian home."
Pete Hegseth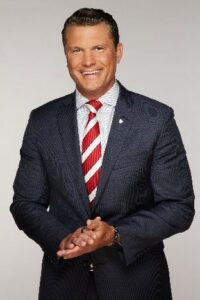 While at FNC, Hegseth has provided analysis and commentary across the network's daytime and primetime programming. Most recently, he hosted the FOX Nation special, The Miseducation of America. The five-part series examines how the American education system has evolved over the last hundred years as well as the current state of the classroom, including the shift to more progressive content in today's curriculum.
This very special Remember America event will highlight how the three-stranded cord of church, family, and education can undergird and strengthen the country's foundation.
"Pete Hegseth has become an authoritative voice on the damage that Progressivism and progressive education has done to our country over the past 100 years," Stone said. "His book Battle for the American Mind, which he co-authors with David Goodwin, not only lays out the damage that Progressive education has wrought in America but provides a solution for restoration. It is a return to classical Christian education, a component of the Principle Approach. This method goes beyond teaching students mere facts, but inculcates in them the importance of virtue, love of God, love of country, and the logic and critical thinking that allows them to arrive at Biblical wisdom."
Special Appearance by Sean Feucht
Worship leader, author, and missionary Sean Feucht makes a special appearance at this year's Remember America event to encourage churches to stand during this important time in history. Sean brings a message of hope for the hopeless, an urgent call to action for God's people, and an unabashed plea to God for revival in America.
"When it comes to the church, few voices have been as loud in calling God's people to engage the culture and redeem it for Christ than Sean Feucht," Headmaster Stone said. "When California officials demanded that churches close their doors and that those holding outdoor services ban singing, Sean took a stand. When the Supreme Court opinion regarding Roe v. Wade was leaked and protesters flooded the capitol, Sean and his team went to Washington DC to hold prayer and worship services. His Let Us Worship movement is strategically taking the gospel message of deliverance and hope all across our nation."
Tickets are available online at DayspringChristian.com. For sponsorship information, visit the website or call Joanne Martin at 717.285.2000, ext. 211.
Remember America Speaker Series Mission and Resources
The Remember America Speaker Series is designed to remind Americans of their unique heritage of liberty that was founded upon biblical principles. The Series is intended to bring high-caliber speakers to our community who can cogently articulate their message, which is based on their own research of original sources and through personal experiences. In addition to the Speaker Series, the Remember America Lecture Series is an outreach of Dayspring Christian Academy.
Additionally, Dr. Michael Myers, Dayspring's founder, has published a book titled, It's Time to Remember, America. This book is an attempt, through the use of original documents and primary sources, to canvass and rehearse the voices of our American ancestors – those who have gone before, laying down their lives as stepping stones for us who have come later. This compilation is an invitation to recall those who established a system of government such as the world has never known and where the biblical worldview formed a common thread. It's Time to Remember, America is available for purchase. Simply click the link below to place your order.