The Road to Literacy: Learning to Read at Dayspring Christian Academy
Reading Time:
4
minutes
Using a methodology like the Principle Approach requires a rich, bold, and time-tested curriculum to accompany it. While Dayspring Christian Academy uses several key curricula to create a bold, distinctive, and biblical education for our students, this article takes a look at The Writing Road to Reading, our phonics curriculum.
Phonics is defined as "a method of teaching people to read by correlating sounds with letters or groups of letters in an alphabetic writing system." Because reading cannot occur without an understanding of the correlation between letters and sounds, phonics is the first stepping stone to teaching a student how to read. For many parents, learning to read is the first goal of early childhood education for their children. We interviewed Delinda Henry, our Lower School Principal, to learn more about the Writing Road to Reading curriculum and what parents of students enrolled in Kindergarten to Grade 3 can expect from this program.
What exactly is The Writing Road to Reading?

D.H.: The Writing Road to Reading curriculum is the Spalding Method of teaching Phonics. Spalding's Writing Road to Reading is a total language arts program, integrating the essential research-based components. The Spalding Method's mission is "to increase literacy for all children and adults by using The Spalding Method to develop skilled readers, critical listeners, and accomplished writers". The program begins by teaching phonograms. There is a total of 70 phonograms, which represent minimal speech units called phonemes. This method has been proven to form neural links between particular phonemes. In other words, this method enables the student to easily remember what they've learned and easily apply what they've learned to new material.
Why does Dayspring Christian Academy use Writing Road to Reading?

D.H.: We believe and research shows that using phonics to teach reading is proven to be effective for all children. Reading instruction must be systematic and explicit or purposeful and The Writing Road to Reading method uses both critical aspects.
What sets this curriculum apart from others?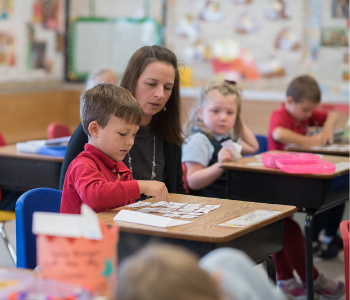 D.H.: This curriculum has been used and tested with children of all learning styles and abilities for more than 50 years. Results show all children, including children with intellectual disabilities, can learn to read with enough time and effort given to this process.
What benefits does Writing Road to Reading provide for our students?

D.H.: Our students benefit from this method of reading because they have a strong phonics base and will be able to decode words that are difficult. We couple our strong phonics program with the Accelerated Reading Program, as this program gives students an opportunity to demonstrate reading comprehension. All strong reading programs must explicitly teach phonemic awareness, phonics, fluency, comprehension, and vocabulary. The Writing Road to Reading program partnered with the Accelerated Reading Program, as well as explicit teacher instruction in each of these five areas gives Dayspring Christian Academy students a strong foundation in reading.
What results can parents expect to see from their kindergarten child using the WRTR curriculum?

D.H.: In Kindergarten, parents could expect to see the beginning stages of sounding out words and blending words. We call this phonics development. Writing Road To Reading is a phonics program so the children learn what each of the 26 letters "say" — what sounds they make alone and in combination with some of the other letters. By the middle of Kindergarten, the children are reading books at their level. Parents can also expect their kindergarten student to write both upper case and lower case letters in a correct format.
What results can parents expect to see from their first or second-grade child using the WRTR curriculum?

D.H.: Parents of first and second-grade students could expect their students to have strategies for sounding out words. Students at these grade levels are reading at grade level and using sound phonics strategies to read, spell, and write. Students at first and second grade are still learning to read. They are learning about phonics, fluency, comprehension, and vocabulary. The students are continuing to work on letter formation and proper form of printed letters and words.
Why does Dayspring Christian Academy still teach cursive penmanship?

D.H.: Penmanship is an important part of our heritage as our forefathers often kept handwritten records of their learning (learn more about that here). We strongly support the notion that students of all ages need to record their learning and make connections from past learning to future learning. Penmanship including cursive writing facilitates this aspect of our mission as well as assists our student in their pursuit of excellence in learning. Aside from this, The Principle Approach method of education requires students to take an in-depth look at primary sources, many of which are written in cursive. Without the ability to read cursive handwriting, one cannot read and research for oneself primary sources such as our Declaration of Independence, our Constitution, and many other key historical documents.
At what age does Dayspring Christian Academy begin to teach cursive penmanship?

D.H.: Cursive instruction begins in third grade. Our students, for the most part, love to learn cursive and really look forward to being about to read this type of writing.
If you would like more information about Dayspring Christian Academy or The Principle Approach, please contact Karol Hasting at 717-285-2000. You can also register for a personal tour or an upcoming open house!