Reading Time:
5
minutes
If you are perusing this blog, you have mastered the art and science of reading. Thinking back to the process, for some of us it was slow and steady learning; for some, it was painful and sometimes embarrassing; for some, it was an easy switch to figuring out the symbols as letters, then words and, finally, it all registered as complete thoughts. Your children will learn to read, too. But how can we help them see the importance of the printed page?
It starts with you.
Do you love to read? Do you find time to read just for entertainment? Are books an important part of your home? Home is where children see the worth of reading. To encourage reading, there are several things parents can do.
Read to your children while they are very young.
Babies like the rhythm of words while being held and loved. This sets the stage for them to want more! Picture books make reading fun on almost every topic. Children inevitably find one book that they like to read over and over. I'm sure Goodnight Moon was read over and over at bedtime in many homes until the children could "read" it to the parents! Remember—treat each reading with the same excitement and enthusiasm so that reading time says, "Ah, I love this!"
Visit your local library regularly.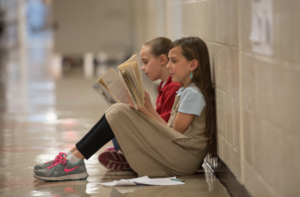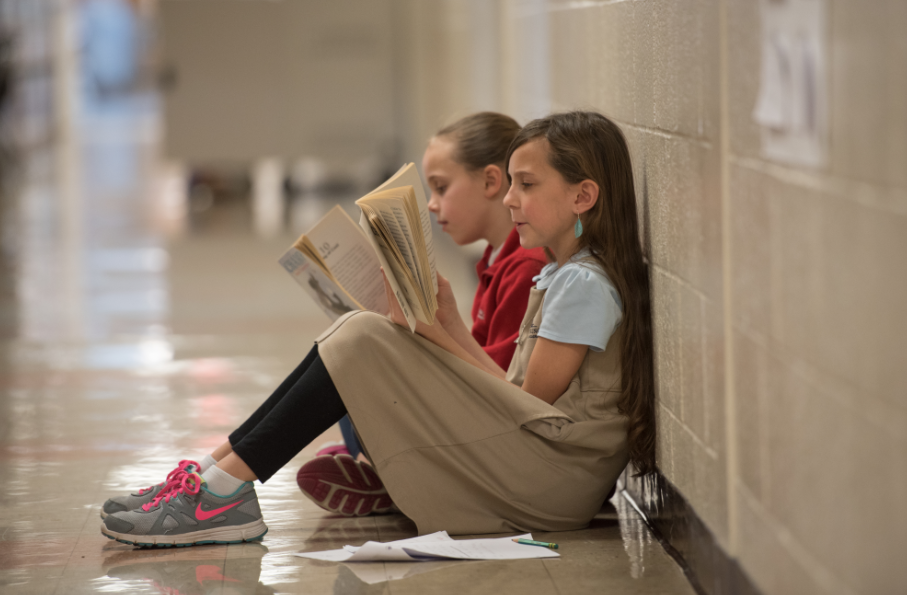 By elementary age, children should have trips to the library to pick out new books to enjoy. The library is a constant source of new opportunities and challenges for the children to dive into the written word. It is a good idea to set aside a place in your home for all library books to be stored. This will ensure the books do not get damaged and are returned on time.
Introduce chapter books early on.
By 1st or 2nd grade (3rd grade at the latest), chapter books should be part of the reading routine. Some children like a series by the same author, others like a variety that includes science, transportation, occupations, science fiction, etc. Help your children to be exposed to the many different "flavors" of books that are available – mysteries, fantasy, history, biographies, poetry, and many more!
Set aside time to read together.
Set aside an evening to put away the electronics and bring out the books! Sit and read together as a family. Everyone can pick up their own book or Mom and Dad can read to the whole group.
When reading aloud, use expression in your voice, change your voice for different characters, build anticipation, stop and ask questions, and ask "what if's" to keep interest. It is also a good technique to share the reading (you read a paragraph, then a child reads). Children can follow the story better and you can judge how their reading is improving using this method. One only gets better at reading by reading!
Add variety to your reading time.
While most reading can be done with books, magazines, puzzle books, newspapers, and even comic books will help to strengthen your child's reading skills.
My personal experience
In our home, we would read chapter books together. As a reward for being ready for school early, we would sit and enjoy "visiting" Narnia or traveling with the rabbits in Watership Down. When we were all home together, I would often read by myself while the kids would play in the morning. When they were ready for lunch, I'd say, "Just a minute, I'm almost finished with this chapter." So, they would watch and wait until I put down the book and then we'd get lunch started. This worked in my favor until they were in elementary school. They would be sitting and reading and when I wanted them to do something, I would hear my words echoing back in bittersweetness, "Just a minute, I'm almost finished with this chapter." It is nice to see my grandchildren enjoying books, too!
What should we read?
For the very young, there are books of all kinds! Golden books, texture books, pop-up books, extra-large books and tiny books… Any topic you can imagine has been put into written form.
Early readers are just as prolifically printed. Series books are often a good way to foster a love of reading. Characters like Amelia Bedelia, Cam Jansen, Ramona, The Hardy Boys, Nancy Drew, Encyclopedia Brown, and The Boxcar Children invite children to join in their adventures. Worlds like the Chronicles of Narnia beckon young readers to visit regularly.
Reading at Dayspring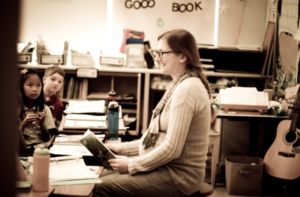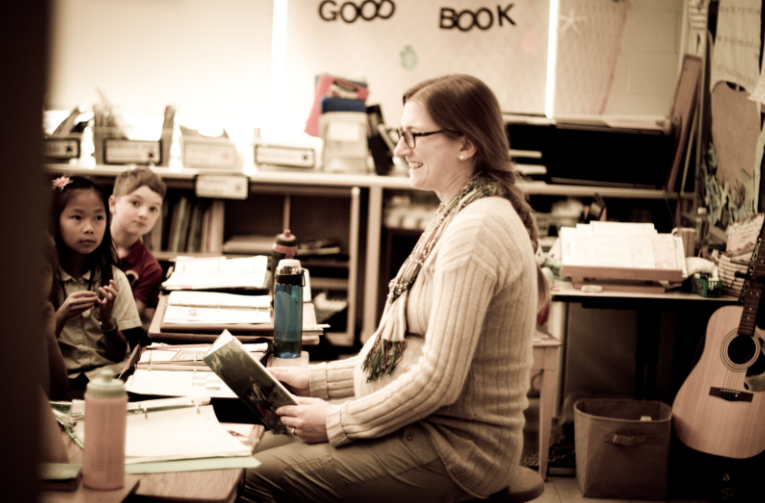 At Dayspring Christian Academy, there is a rich Literature program. Books read in each grade level up to Grade 5 are read to the class by the teacher. The purpose is to have reading as an inspirational subject. Here is a list that our students enjoy, by grade. Perhaps, your child will love these stories, too!
Developmental Kindergarten, ages 4/5 – Beatrix Potter, Mother Goose
Academic Kindergarten, ages 5/6 – Winnie the Pooh, Dr. Seuss, Little House on the Prairie
Grade 1, ages 6/7 – Little House in the Big Woods, Abagail Adams, Pinocchio
Grade 2, ages 7/8– Heidi, Daniel Boone, Charlotte's Web
Grade 3, ages 8/9 – Trumpet of the Swan, Hans Brinker and the Silver Skates, Ben West and His Cat Grimalkin
Grade 4, ages 9/10– Carry on, Mr. Bowditch, Treasure Island, The Secret Garden
Grade 5, ages 10/11 – Little Women
Grade 6, ages 11/12 – Odysseus, A Christmas Carol, Up From Slavery, Tom Sawyer
Grade 7, ages 12/13 – Iliad, Ivanhoe, and Wizard of the North (Sir Walter Scott biography)
Grade 8, ages 13/14 – The Miracle Worker, Ben Hur, Odyssey
Grade 9, ages 14/15 – The Deerslayer (excerpts only), My Antonia
Grade 10, ages 15/16 – Beowulf, The Canterbury Tales, Paradise Lost (excerpts), Jane Eyre
Grade 11, ages 16/17 – Pilgrim's Progress, and A Tale of Two Cities (AP reads also Till We Have Faces, and To Kill a Mockingbird.)
Grade 12, ages 17/18 – Hamlet, The Crucible, The House of the Seven Gables, The Great Gatsby (AP also reads Pride and Prejudice and The Heart of Darkness)
What if my child does not like to read?
A love of reading starts at a young age. If you have a child that does not like to read, what can you do? Try these three steps:
1) Make a list of your child's interests.
2) Find books on these topics.
3) Read the books together!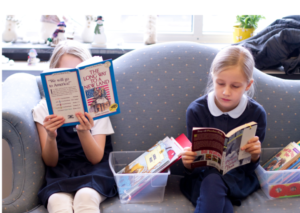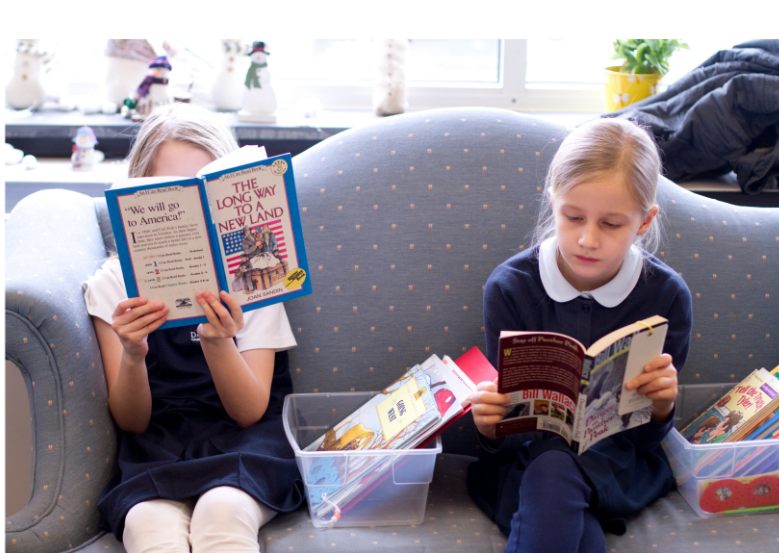 Generally speaking, children want to spend time with their parents. Reading together and talking about the story or book you've just read will help your child feel connected to both the reading material and you. Over time, reading together will become a treasured time for both of you and inspire a positive attitude about reading.
Conclusion
Encourage reading, together and alone. Set aside time to read together as a family. And finally, show your children that reading is important by being an avid reader, too!
If you would like to learn more about Dayspring Christian Academy, please call Karol Hasting at 717-285-2000 or schedule a private tour using the button below: