Transitioning Your Child To Middle School
Reading Time:
5
minutes
Updated February 13, 2020
Nothing strikes more fear in the heart of man than change. We find comfort in what we know and what we're used to. Even adults fear or at least worry about change. But in the mind of an eleven-year-old, change can be terrifying.
I loved my fifth-grade teacher, Mrs. Warner. I was certain at the end of my fifth grade year that I would never love another teacher as much as I loved her. I cried on the last day of school and was overcome with anxiety all summer before sixth grade. The first day of school was not pleasant. I remember feeling vulnerable, unsafe, and unsure. I was certain that I would never be able to open my locker, find my classes, or make new friends.
Middle school is daunting on many levels. Compounding the reasons to worry is "advice" from well-meaning relatives, friends, and even teachers. Students are told, "This sloppy work won't be tolerated in middle school." "Wow, you're going to middle school? That's cool, you'll get to change classes." "Middle schoolers are expected to be more independent." Though all of this is true of middle school, pre-teens take it all in and lump it together, making the impending prospect of middle school an insurmountable beast.
We parents stress, as well. In addition to wondering how our little baby has gotten to this point, we harbor the same worries for our children. If they can't put away their toys, how are they going to navigate a locker? If they are a hot emotional mess over tiny issues with their siblings, how are they going to navigate friends? If they leave all their homework on the kitchen table every night, how are they going to remember to hand in assignments without a teacher reminding them? All valid points. But ready or not, middle school comes. And it can actually be a wonderful time of life.
So how do we prepare our preteen for the unnerving inevitability of middle school? Here are five ways you can help ease the transition.
Listen.

Nothing says love like a good listening ear. Proverbs 18:5 says "…the ear of the wise seeks knowledge." Really listen to your child. Nod your head, repeat back to them what they said, make eye contact and sit quietly. This is not a time to offer advice. Just allow them to talk and make sure they know that you have heard them.
Acknowledge their fear.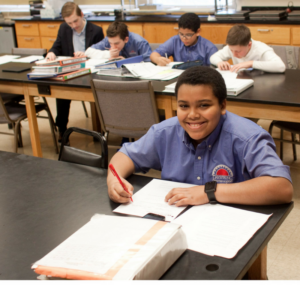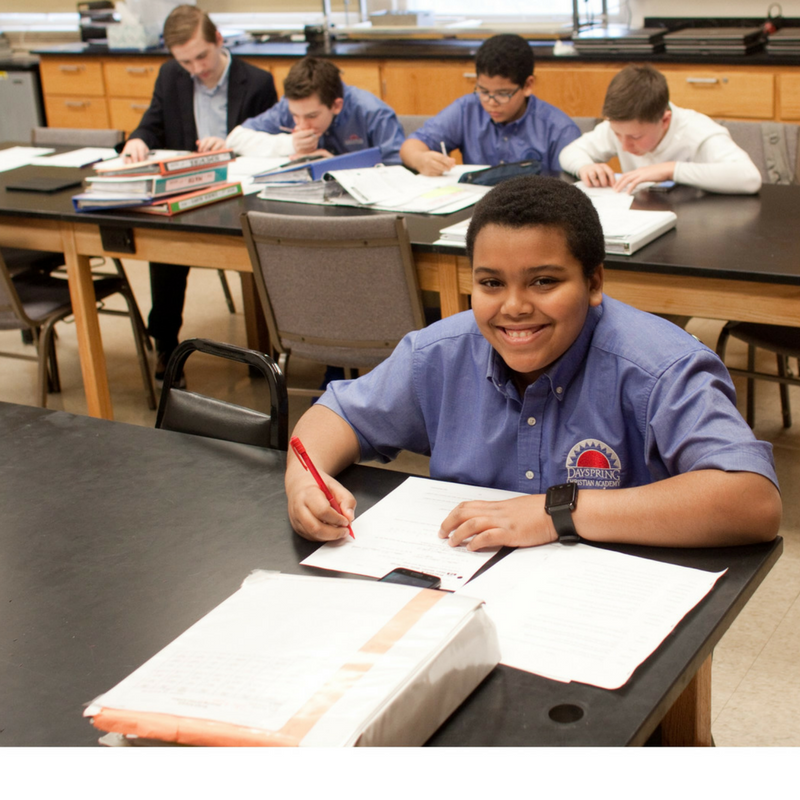 Honesty, indeed, is the best policy. There's no reason to sugar coat how scary the prospect of middle school can be. Acknowledge that with your child. Let them know that you're a little nervous, too. Answer their questions as honestly as possible. Run through worst case scenarios, and brainstorm solutions. For example, what would happen if…you couldn't open your locker after a billion tries; you couldn't find your class, making you late; you had nobody to sit with at lunch; you accidentally walked into the wrong bathroom (silliness can sometimes ease the tension). Then follow up with, perhaps, Philippians 4:13: "I can do all things through Christ who strengthens me." Remind them that they can access this (and other) Scripture any time they feel afraid.
Keep perspective.

My daughter was fraught with anxiety in her middle school years. Whenever she would become afraid, I would remind her to tell herself the truth. It became our mantra for keeping perspective. It was meant to remind her to look around, and see what is really happening. Is it really the end of the world if your locker won't work and you have to ask for help? If you can't find your classroom and you're late, will that cause you to fail sixth grade? What is the likelihood that you will find zero people to eat with at lunch? And if you can't on the first day, what is the worst that will happen and what can you do about it? This is a golden opportunity to instill strength in your child and to help them to be focused outside of themselves. Remind them that every single child entering the first day of middle school is scared on some level. The truth of the matter is that no matter how they feel, it is not as scary as it seems. Remind them, too, who the father of lies is, and whose voice is worth listening to. This is an excellent opportunity to remind your child that their strength, their worth, comes from their relationship with Christ, and fear is from the enemy. Philippians 4:8 could help them to keep a positive perspective:
Finally, brothers, whatever is true, whatever is honorable, whatever is just, whatever is pure, whatever is lovely, whatever is commendable, if there is any excellence, if there is anything worthy of praise, think about these things.
Pray.
This is also a golden opportunity to help your child realize the importance of prayer. It's a good reminder for us, as parents, too. Teach your child to go to God with every fear, every concern, every problem. Instill in them scriptures that they can hearken back to when they are anxious.
Philippians 4:6: Do not be anxious about anything, but in everything by prayer and supplication with thanksgiving let your requests be made known to God.
1 Peter 5:7: Cast all your anxieties on him, because he cares for you.
Zephaniah 3:17: The LORD your God is in your midst, a mighty one who will save; he will rejoice over you with gladness; he will quiet you by his love; he will exult over you with loud singing.
Prayer will help your child see that God is always there, he cares for us, and he wants us to lean on him when we're afraid.
Keep Christ at the center.
Modern culture places children square at the center of the universe. Theirs and everyone else's. This is not biblical. Our children must be taught that Christ is the center and that everything we do must glorify him. So how your child handles anxiety, how he or she relates to other people, how he or she tackles problems, and where he or she places their focus must all reflect their confidence in Jesus Christ. This can only be modeled by the adults in their life. If we model confidence in Christ (as opposed to modeling a spirit of fear and self-focus), we are "training them up in the way they should go" (Proverbs 22:6).
Listening to your child, acknowledging their fear while reminding them about the truth, and praying and setting Christ in the center of their world, will increase the likelihood that their fear will be diminished and their confidence will be increased. It might do the same for us parents, as well.
We invite to take a personal tour of Dayspring Christian Academy to learn more. Click below to register or contact Karol Hasting at 717-285-2000.

CLICK HERE TO REGISTER