Reading Time:
3
minutes
After a quaint breakfast, members of our 2016-2017 Women's Giving Circle listened to seven Dayspring Christian Academy teachers present requests for funds to enhance our student's educational experiences. Each teacher gave an overview of their request and answered questions that Women's Giving Circle members had regarding their project. A giving circle is where donors pool their gifts to make a bigger impact than just one gift could have. Giving circles offer an innovative approach to fundraising for specific programs and projects that are typically unbudgeted items.
Last year's Women's Giving Circle was comprised of seven women who supported several Dayspring Christian Academy programs including our STEM program, music program, athletic program, and our P139 learning support service. The Women's Giving Circle for the 2016-2017 school year is comprised of fifteen generous ladies.
Mrs. Leslie Schmucker began the presentations with a request for a middle-school-focused curriculum designed to increase the literacy and grammar skills of students in the P139 program. Along with the ability to purchase the curriculum, Mrs. Schmucker requested training for P139 staff.
Mrs. Schmucker was succeeded by Mrs. Donna Osborne who requested the purchase of 18 tablets to bring technology to her Academic Kindergarten classroom. Each tablet would be set up specifically for the needs of the Academic Kindergarten students, enhancing an already robust Kindergarten curriculum.
Following Mrs. Osborne came Dr. Randy Hilton who informed our ladies that along with teacher Eric Schwartz and Headmaster Dr. Michael Myers, he is spearheading the creation of a new Latin reader for our 5th to 8th-grade students. Each reader will be illustrated by our students and is designed to bring a richer, deeper understanding of Scripture to our students through the Latin language. His request to our Women's Giving Circle was that they assist with the cost of the publishing process.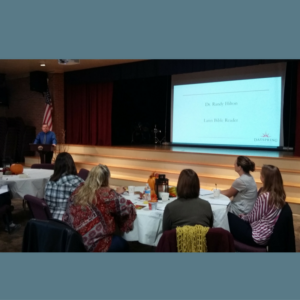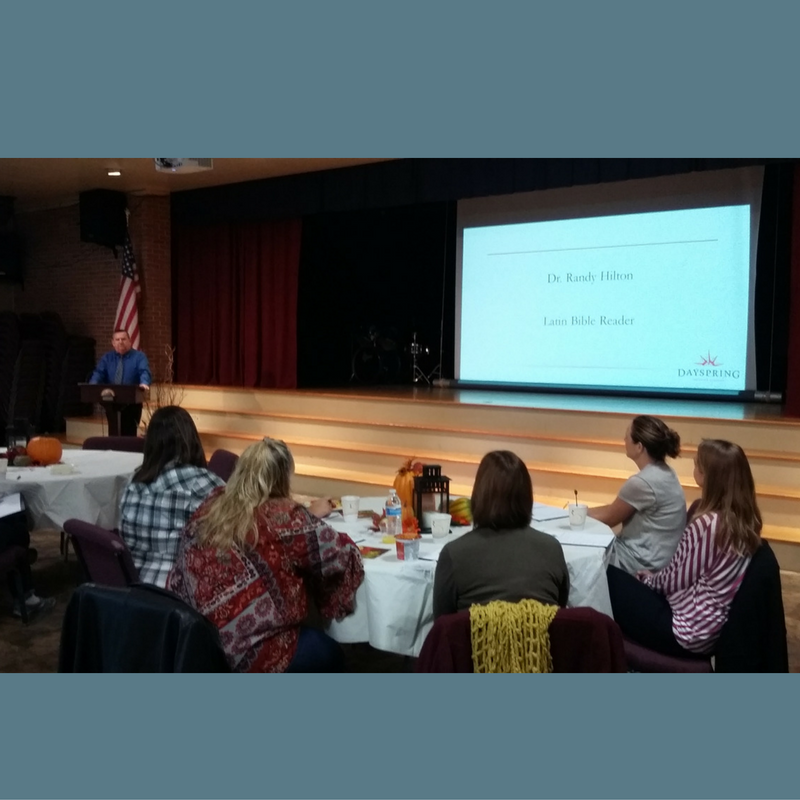 On the heels of Dr. Hilton, Mrs. Lindsey Stauffer shared her request for Bow Hold Buddies, a unique way to teach children the proper way to hold a bow for playing a stringed instrument. These Buddies will be used in our 4th-grade string program, where students learn to play the violin as a part of their studies.
Mrs. Mary Stauffer, Dayspring's STEM Director presented her curriculum recommendations for Grades 1-5. Many of her recommendations would bring STEM-based projects to Dayspring's Lower School classrooms.
Mrs. Delinda Henry brought her request for an addition to be made to the Lower School playground. Seeking funds for the building and installation of a GaGa pit, Mrs. Henry presented our Women's Giving Circle with options for pit type, size, and cost. An ADA compliant GaGa pit was recommended.
Finally, the Women's Giving Circle members heard from Mr. Lance Yunkin, who leads our student Worship Team. His request included a portable PA system, which would be used for events such as See You At The Pole and Upper School Retreat, but as well would be used as a monitor for chapel and other events held in our auditorium. Mr. Yunkin also requested a Meinl Cajon, a portable percussion instrument, to be used for worship during Wednesday chapels and other events.
After a time of deliberation, the Women's Giving Circle emerged with their decision to fully or partially fund six projects. These projects are:
Latin Reader – partially funded
Systematic Reading and Easy Grammar Systems for P139 – fully funded for curriculum purchase
Portable Sound System for Chapel – fully funded
Bow Hold Buddies for 4th Grade Music – fully funded
Elementary STEM Program for 2016-2017 – fully funded
Tablets for Academic Kindergarten – fully funded
Meinl Cajon – fully funded
The total amount of projects funded is $2900.22. We are so grateful for our generous Women's Giving Circle members! Thank you for enhancing educational opportunities for our students!
If you would like to be a part of this innovative program, please contact Joanne Martin at 717-285-2000 or jmartin@dayspringchristian.com.