Reading Time:
5
minutes
As I plan Lower School Art classes I sometimes look on the internet at blogs and lesson plans of elementary art teachers.  It is rare that I copy a project, but rather adapt and re-purpose ideas I see.  Time and time again it has struck me that lessons in a specific grade will have no flow or continuum of purpose through that grade level.  They seem to be activities, using a variety of media, on seasonal topics or random subjects.  Not so at Dayspring – here we do art with a purpose.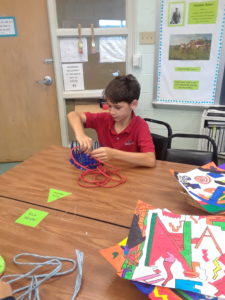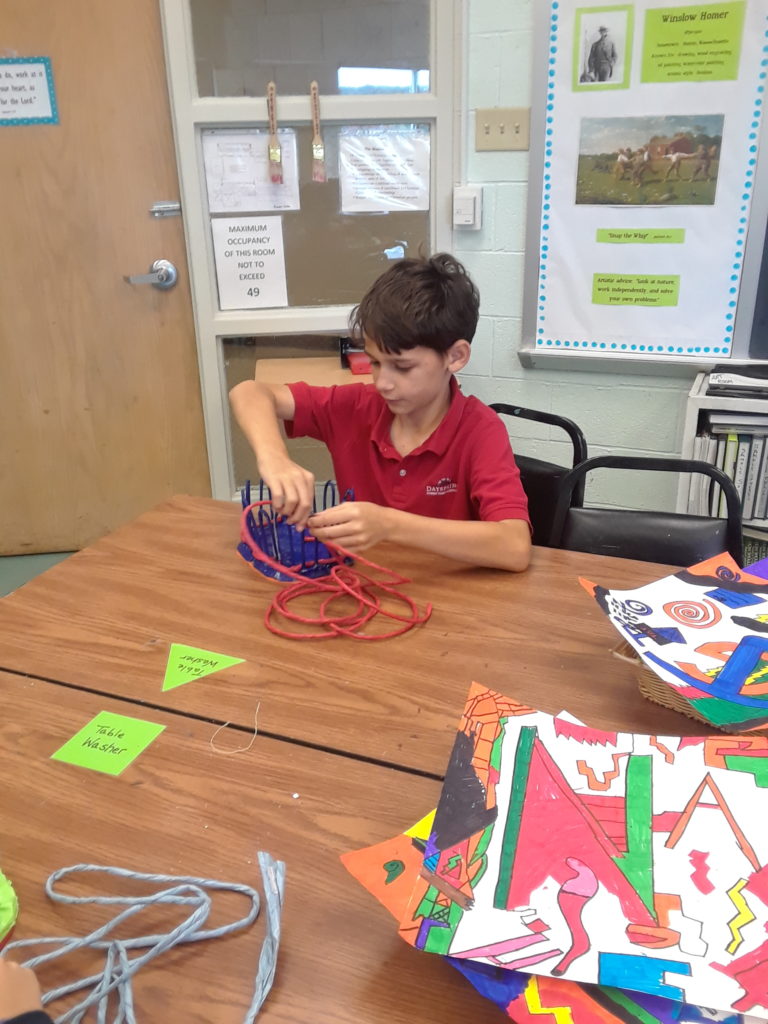 The reason for all education is to enlighten the mind to enable a life of honor and glory to God.  Art education, no matter what grade level, should carry the same purpose.  That is what I strive to do.  Each Lower School Art curriculum plan has a purpose and a flow, not only through the year but through the years.  The lesson plans are not just a collection of random activities put together for the experience. The overriding purpose of art from Academic Kindergarten through fifth grade is to learn about God and who He is.
God needs to be fixed in the Lower School students' minds as the first artist, the Creator.  From there the idea that man has been created in His image, with all things done to His glory, even if art is not the natural bent, can begin to take hold.  In all grade levels, I stress order, neatness, obedience, responsibility, and patience – godly traits necessary to succeed no matter the grade or skill level.  Christian character building is a vital part of art as we want our students to view every aspect of life through God's goggles, not man's.
A student once asked me, "Is this art class or Bible class?"  My answer was "Both." for to me, if in all things we are to glorify God, art and Bible (God) cannot be separated.  Establishing godly attitudes in a child's heart must be purposeful and begin at a young age.
The curricula of Academic Kindergarten through third grade build upon one another, deepening basic art skills each year.  All four years revolve around the "Seven Elements of Art": line, shape, color, value, texture, space, and form.  Each grade level does a unit covering each element, with age and skill-appropriate activities, sharpening and growing their skills from year to year.  From learning how to use scissors to cut simple lines in Academic Kindergarten to weaving a tree in third grade (and seeing how the lines of yarn form the shape of the tree trunk) the skills build in scope and difficulty as the student gets older and is able to do more in-depth projects. Each grade level does have its own distinctives with unique units designed to emphasize God as Creator.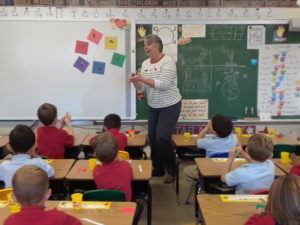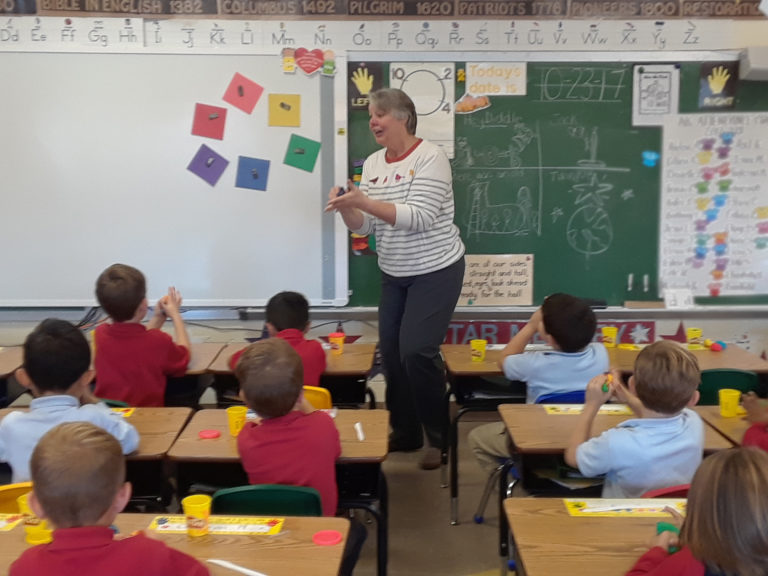 In Academic Kindergarten, each student makes a Creation poster over four class periods, which shows and explains why God created our world in a specific order.  First grade does a unit on the Fruits of the Spirit, with an art project to remind of each godly character trait.  Second grade again covers Creation, this time doing a separate project depicting each day of Creation.  Third grade has an emphasis on drawing skills, built around the idea that God created the world and man copies His Creation.  Even though Academic Kindergarten through third grade all have the same backbone of the "Seven Elements of Art", their own units and the increasing difficulty of art activities, as well as students' maturity in skills and abilities, keeps these first four years diverse.
Fourth grade and fifth grade move into another area of art learning: art history.  In fourth grade, our overview begins with Early Christian art, moving through the Middle Ages, the Renaissance, and ends with the Dutch artists in 1600.  We look at and discuss art from eras covering just under a thousand years.  Projects are based on historic art examples including Christian symbols, triptych painting, and mosaic.   Fifth-grade art continues with Plymouth in 1620 and progresses into the 20th century.  Beginning with the crafts done by the early settlers, to artists who recorded our country's history through their artwork, to illustrators, and more recent artists, we do projects reflecting each era.  Again, these include a wide array of activities such as weaving, portrait drawing, and watercolors.  Both of these grade levels come back to the basic thought that God is the first artist, and that He made us all individuals with various skills and talents.  The understanding of terms and skills taught in the earlier years continues to be deepened and built on.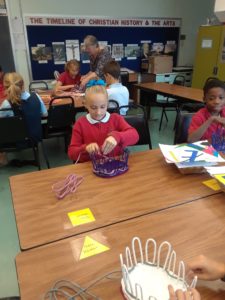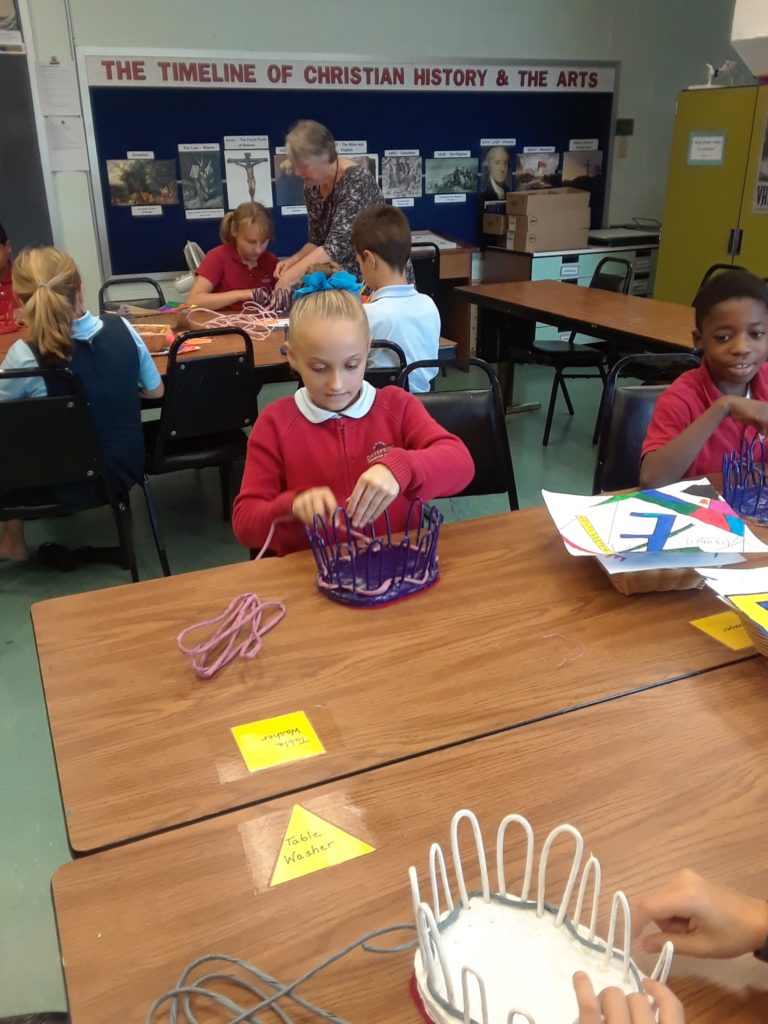 In December, Lower School Art classes are abuzz with excitement as we step away from our regular curriculum.  Each grade makes a gift to give someone.  We discuss the Greatest Gift God ever gave, why we give gifts, and the uniqueness of handmade items.  These special projects tend to be crafty in nature, sometimes teaching simple life skills; in third grade, a sewing project by hand produces a hot pad, while in fifth a wooden pencil box is constructed and painted.  It is gratifying to hear reports from students about the delight of the gift from their recipients.
Lower School Art at Dayspring Christian Academy encompasses much more than cutting, gluing, and coloring.  Art at Dayspring is a time to build a child's understanding of who God is, and how He wants us to think and live.  It is a time to build Christian character in children in a more relaxed school atmosphere.  Art class is a time to encourage every child, no matter their skill level, to develop their own God-given creativity and to appreciate the works and skills of others. It is art with a purpose.
Dayspring Christian Academy educates children from preschool through 12th grade. Dayspring is different from other Lancaster-area Christian schools in that its rich and elevated classical curriculum — called The Principle Approach — trains the hearts and minds of our students to understand and apply truth.  Our mission is to assist parents in providing a wholly Christian education for their children. If you would like to learn more, please schedule a tour or contact Karol Hasting at 717-285-2000.