Reading Time:
3
minutes
This article was originally published on April 5, 2017. It has been updated for accuracy.
Christian parents often focus on strong academic Kindergarten programs. While academics are good, a program that focuses on knowing Scripture and character development is key.
Dayspring Christian Academy — a private Christian School in Lancaster County — uses a sound biblical approach to education. This approach is exposed in every subject, and in every classroom – even in kindergarten.
Donna Osborne, a Kindergarten teacher at Dayspring, answered a few questions to give insight into the Principle Approach in the Kindergarten classroom.
Insight Into The Principle Approach
Q: How many years have you been teaching?
Donna: I have been teaching at Dayspring for over 25 years.
Q: Describe the curriculum and how the Principle Approach is built into it.
Donna: We have all the subjects: Bible, Writing, Reading, Math, Literature, History, Science, Geography, Music, Art, and Physical Education. We teach the subjects and apply Scriptural aspects to what the students are learning. An example of this would be in Math, we talk about how God is a God of order, and we see that reflected in the processes involved in Math.
Another example would be in Science, we talk about how God created certain animals to live in certain habitats, and we discuss that He is a specific and creative God.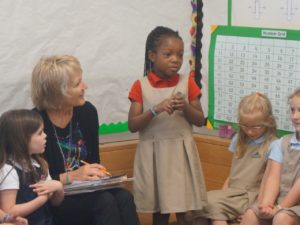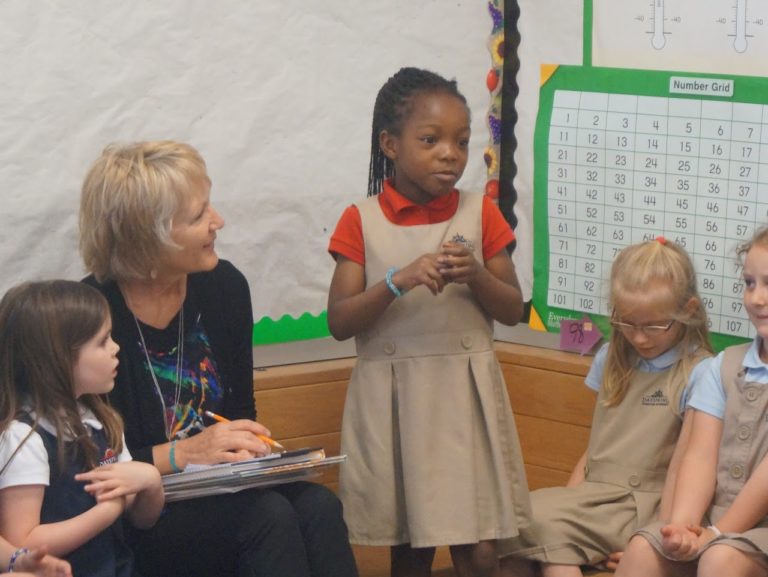 Q: What is foundational to our Kindergarten program that you want to establish in the children?
Donna: We are really big on character development from day one. We learn about obedience, kindness, patience, gentleness, and several other positive character traits. We discuss what each of these character traits means and what they would look like in the students' lives. Each child learns and touches on the characteristics of God, and how to build those characteristics in their own lives.
Q: The Principle Approach has seven pillar principles. Which principles do you focus on and how do you teach them?
Donna:  I focus on the principle that God is a God of Individuality, we learn how everyone is unique and we each have our own characteristics. I also focus on the principle of self-government — we talk about how you are responsible for yourself, and the decisions that you make.
Q: How do you see the effect of the Principle Approach on a child's character as compared to what is available in a public school setting?
Donna: We always try to have the students think about the consequences of their choices and we bring them back to answering questions like How would God want you to behave? or What choice will honor God? As a result of this approach, students are able to reason through the choices and even mistakes that they make.
In a public school setting, you do not see the focus placed on honoring God with every choice and action. We can remind students of Scripture, biblical accounts, and specific principles in the Bible that relate to their situation and their character. God's Word is laid at the foundation of all that we do. It is how God asks parents to instruct their children in Deuteronomy 6.
Q: What is the goal of the Principle Approach in Kindergarten?
Donna: Our goal is to help students to develop character, know Scripture, and understand how the Bible can relate to every area of their lives. We want to make sure that they have an understanding of God and His Word in their heart rather than just in their head.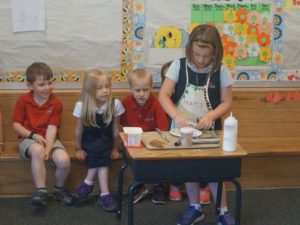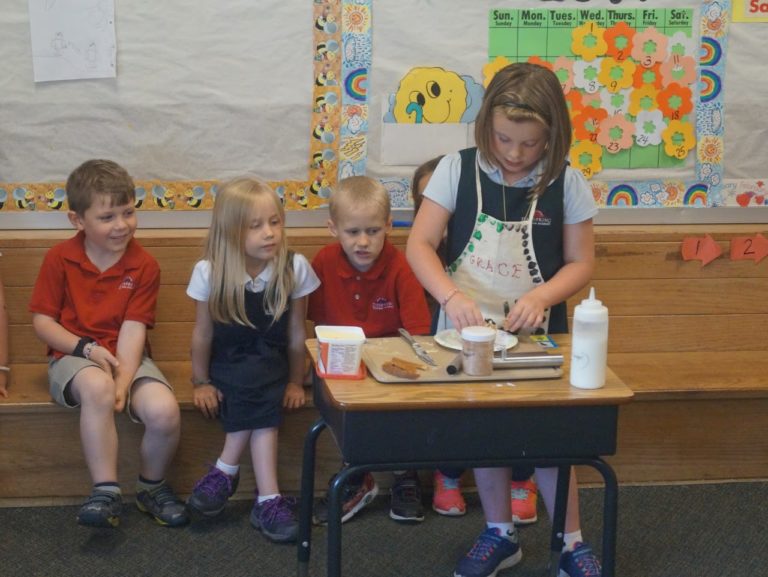 Q: Are there activities throughout the year that the children enjoy most and why?
Donna: I try to make everything that we do fun. We take a lot of field trips, such as to the Five Senses Garden, Zoo America, Kitchen Kettle Village, The North Museum, Lancaster County Park, and Cherry Hill Orchard. We learn something in class and then use an activity to expand what we learned.
Q: What would you recommend to parents who are looking for a kindergarten program?
Donna: Make sure you are looking for a loving, nurturing environment and an environment that is based on learning. Another important point is to look for a program that continues to expand your child's knowledge of God from what they are learning at home. But, most of all, remember that character development is just as important as academic development.
Looking For a Christian Kindergarten in Lancaster, PA?
If you are looking for a biblical Kindergarten in Lancaster, PA, please schedule a private tour or register to attend one of our Open Houses. If you would like more information about Dayspring Christian Academy or the Principle Approach, please call Karol Hasting at 717-285-2000.