Reading Time:
7
minutes
What is The TRUE history of Thanksgiving?
When the leaves begin to change colors and the air turns crisp, Americans begin preparations for the long-standing tradition called Thanksgiving. Despite attempts to diminish, delete, or even rewrite United States history, this time-tested celebration continues to endure, drawing people together in gratitude.
Thanksgiving officially became a holiday when the House of Representatives passed a bill on October 6, 1941, which President Franklin Roosevelt signed into law the following December. This law solidified the last Thursday of November as the Thanksgiving holiday, following years of Presidential proclamations asking Americans to observe a "day of thanksgiving." The trend began on Thursday, November 26, 1789, when President George Washington issued a proclamation asking his fellow Americans to set aside the "day of public thanksgiving and prayer." In 1863, President Abraham Lincoln followed his predecessor's example.[1]
This has become a tradition unique to America. While, in recent years, the public prayer aspect has largely been missing, what is still very present is the tradition of gathering around a full table and giving thanks.
What Happened At The First Thanksgiving?
While we know very little of the first Thanksgiving, what we do know is not what one might imagine or even expect. There are many myths surrounding that first thanksgiving meal, including the belief that there must have been a plump, juicy turkey on the table!
The first thanksgiving was documented by Edward Winslow and William Bradford, two Separatist leaders who had endured a long, harrowing voyage across the Atlantic and a long winter of sickness, starvation, and desolation in the unsettled New World.
In his writing of Mourt's Relation, Winslow penned:
"Our harvest being gotten in, our governor sent four men on fowling, that so we might after a special manner rejoice together after we had gathered the fruit of our labors. They four in one day, killed as much fowl as, with a little help beside, served the company almost a week. At which time, amongst other recreations, we exercised our arms, many of the Indians coming amongst us, and among the rest their greatest king, Massasoit, with some ninety men, whom for three days we entertained and feasted, and they went out and killed five deer, which they brought to the plantation and bestowed on our governor, and upon the captain and others. And although it be not always so plentiful as it was at this time with us, yet by the goodness of God, we are so far from want that we often wish you partakers of our plenty."[2]
William Bradford describes the abundance of food this way:
"They began now to gather in the small harvest they had, and to fit up their houses and dwelling against winter, being all well recovered in health and strength and had all things in good plenty. For as some were thus employed in affairs abroad, others were exercised in fishing, about cod and bass and other fish, of which they took good store, of which every family had their portion. All the summer there was no want; and not began to come in store of fowl, as winter approached, of which this place did abound when they came first (but afterward decreased by degrees). And besides waterfowl, there was great store of wild turkeys, of which they took many, besides venison, etc. Besides, they had about a peck a meal a week to a person, or now since harvest, Indian corn to that proportion. Which made many afterwards write so largely of their plenty here to their friends in England, which were not feigned but true reports."[3]
In addition to the abundance depicted here, the Pilgrims would have had access to native plants which yielded various nuts, fruits, and vegetables. While not an exhaustive list, their menu may have included wild onions, Jerusalem artichokes, squash, watercress, beans, grapes, plums, raspberries, wild cherries, gooseberries, pumpkins, American crab apples, walnuts, and chestnuts. [4]
Times of Fasting and Prayer
Of course, there are many misconceptions surrounding the first Thanksgiving and traditions that have been added over the years. Our modern Thanksgiving meal is certainly different than what was enjoyed by the Pilgrims and their Native neighbors.
Religious observances that combined both fasting and prayer were not uncommon in the time of the Pilgrims and America's first 200 years. It was not unusual for religious and governmental leaders to declare days of prayer and fasting in times of plenty and in times of need. Harvest celebrations would take place to rejoice for the abundance received, and when wisdom and provision were needed in times of war, leaders would issue proclamations for national days of prayer, fasting, and humiliation.
Abraham Lincoln was just one of many governmental leaders who proclaimed such days. On August 12, 1861, he released Proclamation 85:
"Whereas a joint committee of both Houses of Congress has waited on the President of the United States and requested him to "recommend a day of public humiliation, prayer, and fasting to be observed by the people of the United States with religious solemnities and the offering of fervent supplications to Almighty God for the safety and welfare of these States, His blessings on their arms, and a speedy restoration of peace;' and
Whereas it is fit and becoming in all people at all times to acknowledge and revere the supreme government of God, to bow in humble submission to His chastisements, to confess and deplore their sins and transgressions in the full conviction that the fear of the Lord is the beginning of wisdom, and to pray with all fervency and contrition for the pardon of their past offenses and for a blessing upon their present and prospective action; and
Whereas when our own beloved country, once, by the blessing of God, united, prosperous, and happy, is now afflicted with faction and civil war, it is peculiarly fit for us to recognize the hand of God in this terrible visitation, and in sorrowful remembrance of our own faults and crimes as a nation and as individuals to humble ourselves before Him and to pray for His mercy–to pray that we may be spared further punishment, though most justly deserved; that our arms may be blessed and made effectual for the reestablishment of law, order, and peace throughout the wide extent of our country; and that the inestimable boon of civil and religious liberty, earned under His guidance and blessing by the labors and sufferings of our fathers, may be restored in all its original excellence:
Therefore I, Abraham Lincoln, President of the United States, do appoint the last Thursday in September next as a day of humiliation, prayer, and fasting for all the people of the nation. And I do earnestly recommend to all the people, and especially to all ministers and teachers of religion of all denominations and to all heads of families, to observe and keep that day according to their several creeds and modes of worship in all humility and with all religious solemnity, to the end that the united prayer of the nation may ascend to the Throne of Grace and bring down plentiful blessings upon our country."[5]
With proclamations like these being a common occurrence in America's past, it is not surprising that America would eventually have a national day set aside to give thanks. The first official national Thanksgiving was proclaimed by the Continental Congress in 1777 and was intended to be a somber event. [6] This is, perhaps, where the misconception comes from that the Pilgrims were serious, cold, and not depicted smiling. While the Pilgrims were reverent towards God, they did play games and celebrate their harvest with gladness and joy.
In addition to being depicted as somber, Pilgrims are often depicted wearing black. Of course, artists throughout the years have also added big buckles to their hats and shoes. Again, this is an inaccurate depiction. The Pilgrims did wear black on special occasions, but their everyday clothing would have been dark colors like blue, brown, red, and green. They would wear what would hide the dirt.
52 Mayflower passengers participated in the first Thanksgiving: 23 children, 4 women, 16 men, and 9 hired seamen or servants. Massasoit, the chief of the Wampanoag and ally of the Pilgrims, joined the feast with 90 of his braves. In all, the first Thanksgiving totaled 143 people. [7]
Contrary to popular thought, the Pilgrims and the Natives enjoyed over 50 years of peace together. The first Thanksgiving was indeed peaceful, with, as Edward Winslow noted, "recreations" and much feasting. This was because of their peace treaty, which was documented by William Bradford. The treaty between the Pilgrims and the Natives was simple. It said:
That neither he (Massasoit) nor any of his should injure or do hurt to any of our (the Pilgrim) people.
And if any of his did hurt to any of ours, he should send the offender, that we might punish him.
That if any of our tools were taken away when our people were at work, he should cause them to be restored; and if ours did any harm to any of his, we would do the like to them.
If any did unjustly war against him, we would aid him; if any did war against us, he should aid us.
He should send to his neighbor confederates to certify them of this, that they might not wrong us, but might be likewise comprised in the conditions of peace.
That when their men came to us, they should leave their bows and arrows behind them, as we should do our pieces when we came to them.
Lastly, that doing this, King James would esteem of him (Massasoit) as his friend and ally.[8]
Learning from our Nation's History
What can we learn from that first Thanksgiving and those who have gone before us? First, God still has a place at the Thanksgiving table. Throughout American history, the Providential hand can be seen. Stories can be found in primary sources of the outcome of wars and battles being altered by the Divine hand of God. Secondly, the Pilgrims modeled Christian care and brotherly love to the Natives. When Massasoit was ill, he was visited by Edward Winslow, who nursed him back to health.[9] The Pilgrims respected the Natives as friends and allies. We can continue to show Christian care and brotherly love to our neighbors, just as the Pilgrims did. Third, in the words of American thinker George Santayana, "Those who cannot remember the past are condemned to repeat it."[10] We must seek out the truth of America's rich history from primary sources so that we can learn from it, share it, and never forget the price that was paid for our liberty.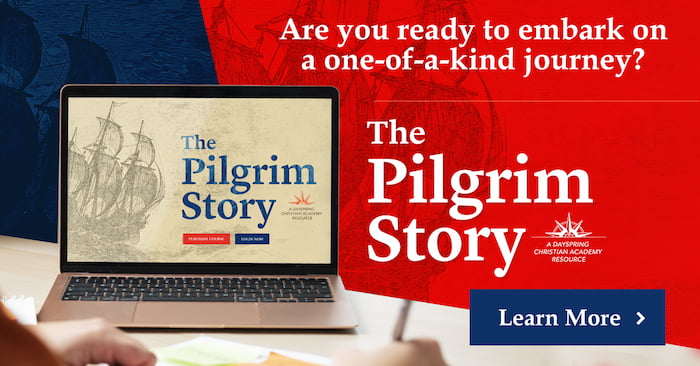 Works Cited:
[1] "The Thanksgiving Holiday." US House of Representatives: History, Art & Archives, https://history.house.gov/Historical-Highlights/1901-1950/The-Thanksgiving-holiday/.
[2] Edward Winslow, Mourt's Relation: D.B. Heath, ed. Applewood Books. Cambridge, 1986. p 82
[3] William Bradford, Of Plimoth Plantation: S. E. Morison, ed. Knopf. N.Y., 1952. P 90
[4] The Thanksgiving Primer. A Plimoth Plantation Publication. P 17
[5] "Proclamation 85-Proclaiming a Day of National Humiliation, Prayer, and Fasting." Proclamation 85-Proclaiming a Day of National Humiliation, Prayer, and Fasting | The American Presidency Project, 12 Aug. 1861, https://www.presidency.ucsb.edu/documents/proclamation-85-proclaiming-day-national-humiliation-prayer-and-fasting.
[6] The Thanksgiving Primer. A Plimoth Plantation Publication. P 6
[7] The Thanksgiving Primer. A Plimoth Plantation Publication. P 27
[8] Potter, Bill. "Pilgrim-Wampanoag Treaty Established, 1621." Landmark Events, 7 Apr. 2021, https://landmarkevents.org/pilgrim-wampanoag-treaty-established-1621/.
[9] Emmons, George B. "1621 Thanksgiving with Chief Massasoit." The Wanderer, 28 Nov. 2019, https://www.wanderer.com/features/1621-thanksgiving-with-chief-massasoit/.
[10] The Life of Reason: Reason in Common Sense. Scribner's, 1905: 284