Reading Time:
4
minutes
Got Rhetoric?
It would be a good question to ask if you're choosing a school for your child(ren). Many people these days aren't familiar with rhetoric as an academic subject. When I say I teach it, eyes often glaze over with tell-tale unfamiliarity. In response, I provide a synonym: speech. "Oh, speech," they say, "why didn't you just say that?"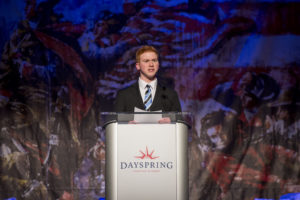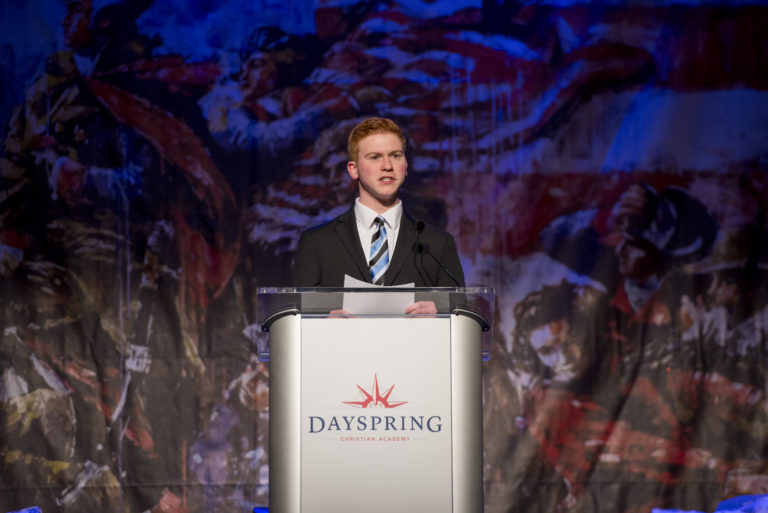 The reason I didn't say speech is that rhetoric implies much, much more than simply imparting to students the value of solid organization, extemporaneous delivery, and clear elocution. Any scholar can see the academic significance of the subject as defined by Noah Webster: rhetoric is "the act of speaking with propriety, elegance, and force." My favorite biblical exhortation on the matter is found in I Peter 3.15, which reads, "sanctify the Lord God in your hearts, and always be ready to give a defense to everyone who asks you a reason for the hope that is in you." It seems that many believers today are unable to articulate their faith or to eruditely profess Truth: they may have faith and know Truth, but expressing these is beyond them for want of development and training.
Another aspect of rhetoric captured in Webster's definition is the concept of propriety, or correctness, which implies both excellence, in use of language, and credibility, thus there is an ethical aspect to rhetoric not inherent to the mundane concept of speech. Too few speakers these days have a concern about the virtue of what rolls off of their tongues, and there is danger in their words: "For those who are such do not serve our Lord Jesus Christ, but their own belly, and by smooth words and flattering speech deceive the hearts of the simple" (Romans 16.18 NKJV). When we prepare students as rhetoricians, we also equip them to discern the false speech referenced in the preceding verse, and there is no dearth of examples of the power of a charismatic speaker to manipulate the uninformed.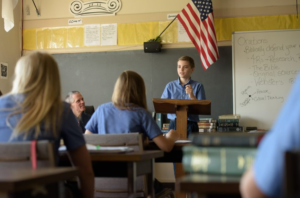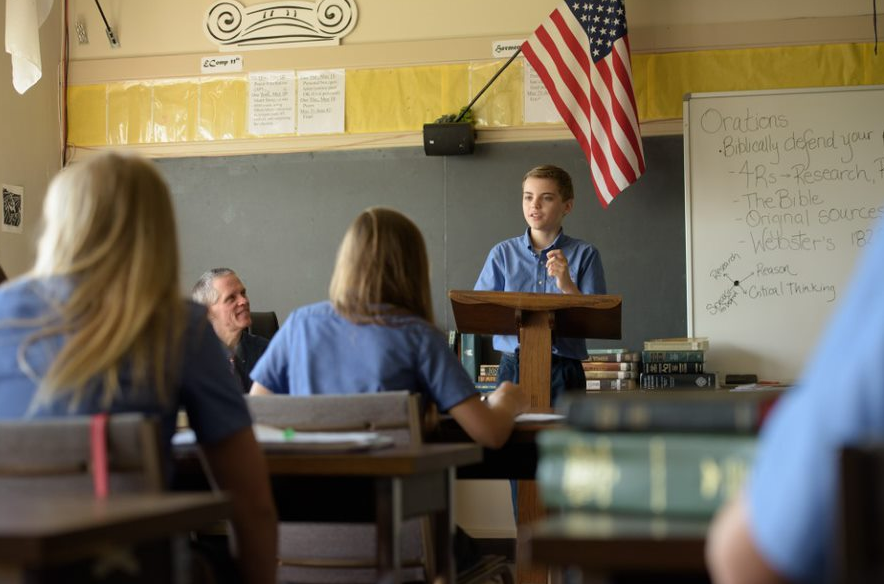 Rhetoric is comprised of logos, ethos, and pathos, or, roughly, the speaker's message, his credibility, and his ability to connect with his intended audience. Students in Rhetoric class learn to craft speeches using the classical structure for argument (very similar to the traditional five-paragraph essay but including a summary of opposing views and rebuttal section). They state a claim and provide logical justifications for it. Next, students build credibility in their written work by locating, integrating, and properly citing credible sources. We invest great energy in teaching students to be discriminating in the sources they use to exemplify and support their thinking. Students build credibility in their speaking by presenting in a polished, practiced manner. Last, students consider the audience to which they are speaking. Diction and phrasing are tailored to appeal to listeners; imagery is employed to stir the heart and the imagination.
In Rhetoric class, most assignments are developed around the concept of extemporaneous speaking, that is, delivering a rehearsed, not memorized, not impromptu, speech. Extemporaneous speaking is the most challenging mode because while the speaker prepares thoroughly by crafting a detailed outline, replete with research, he generates the language and phrasing of the presentation in the moment. At the same time he is generating concise, illustrative, engaging, erudite terms and syntax, the speaker must also be aware of his demeanor, mannerisms, and body language. He must use his instrument, the voice, so that it sounds clear and pleasing. He's got to think about pacing, cadence, avoiding non-fluencies, making eye-contact and reading and interpreting a constant stream of audience feedback. My palms get sweaty while I type this as I ponder the feat! It's like riding a unicycle backwards on a tightrope while playing the trombone and needing to give onlookers the impression that you're not flummoxed or fearful in the slightest.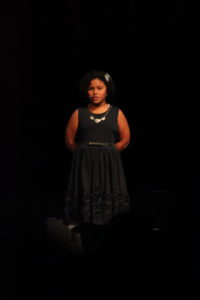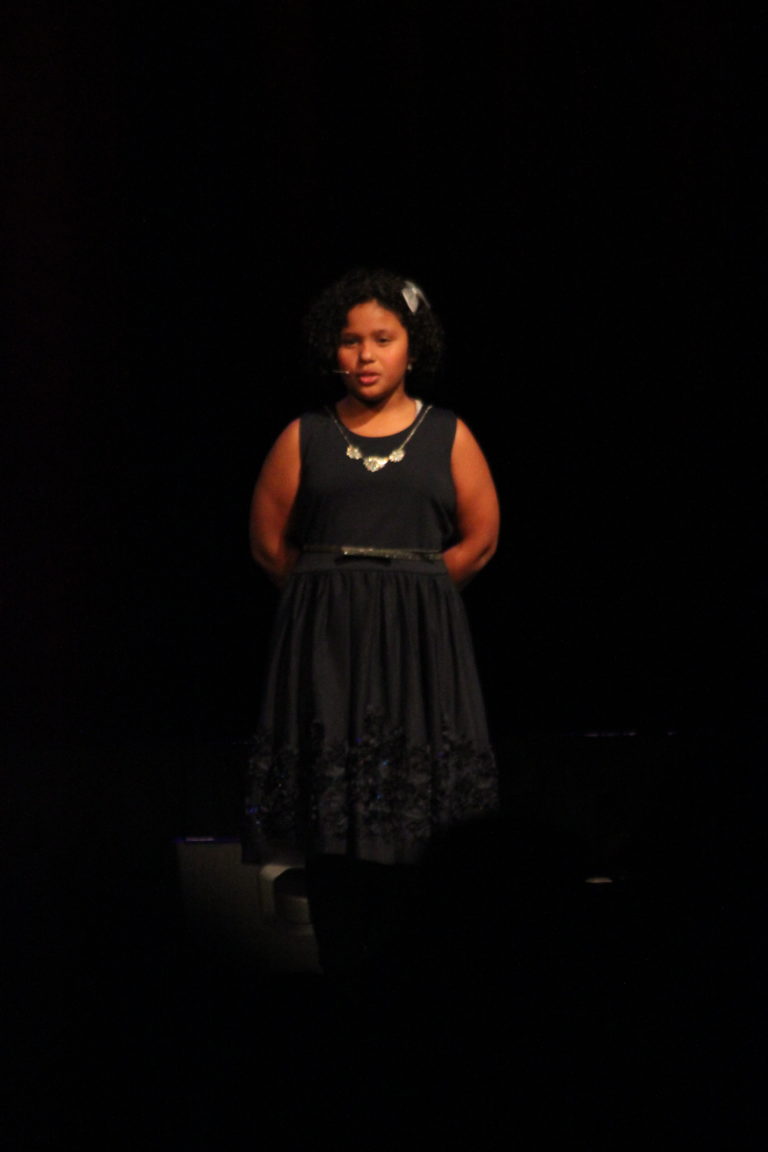 Dayspring Christian Academy provides students with many opportunities for developing their public speaking skills. The Speech Meet, which starts in Kindergarten, is a forum where students memorize and present songs, poetry, or scripture in a formal setting. Finalists present before the whole school body. The Headmaster's Oration process, whereby students compose and orally deliver biblically-sound, classical, scholarly arguments supported by scripture, academic research from primary and credible secondary sources, is undertaken by students in grades three through 12. Requiring even the youngest of our children to speak in front of a large audience prepares them for the challenges of public speaking in college and the work-world.
Given that public speaking (sometimes hedged out by heights or spiders) often tops the list of things people fear, provision of a formal but safe platform in their developmental years affords students the chance to hone skills well before they need them. And while no one I know of is completely immune to the anxiety associated with high-stakes public speaking, our students are able to deliver their orations, with poise and professionalism, to audiences of thousands at yearly Patriots Celebration Dinner and Remember America Speaker Series events because they've had numerous venues for practice.
Above all, however, teachers of rhetoric at Dayspring remember and remind their students, "If I speak in the tongues of men and of angels, but have not love, I am a noisy gong or a clanging cymbal" (I Cor. 13.1); therefore, the heart-teaching we do in all subjects is what matters most. Reaching the heart of the listener by lovingly presenting God's Truth is the force to which Webster refers. That is why our students take Rhetoric, not Speech.
Dayspring Christian Academy educates children from preschool through 12th grade. Dayspring is different from other Christian schools in Lancaster County in that its rich and elevated classical curriculum — called the Principle Approach — trains the hearts and minds of our students to understand and apply truth.  Our mission is to assist parents in providing a wholly Christian education for their children. If you would like to learn more, please schedule a tour or contact Karol Hasting at 717-285-2000.